V.E.B. NARDAPARLI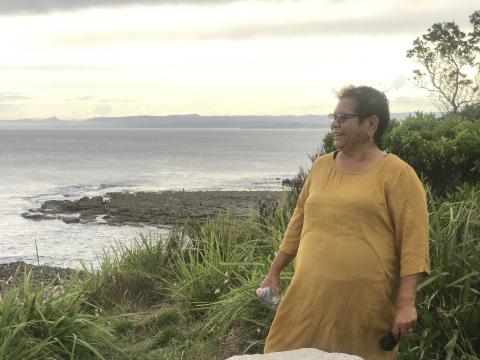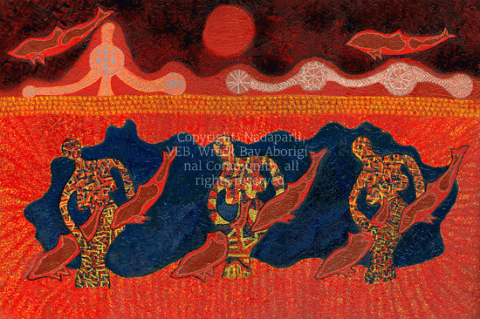 Nardaparli is a renowned painter of the Wreck Bay Aboriginal community in the Jervis Bay Territory of the NSW South Coast.
To order prints please follow this link
She is the great grand daughter of Rosie Burragalong-Davis and Mickey Johnson who were known as King Mickey and Queen Rosie of the Illawarra. Rosie was the daughter of Paddy Burragalong Davis known as the Chieftain of the Illawarra tribe and Biddy Giles who was a senior member of the Gweagal people of the Georges River and Botany Bay. Nardaparli is related through her father George Brown to the Yuin clans of the far south coast. Her great aunt Ellen Anderson (nee Burragalong-Davis) recounted many traditional stories in early compilations of South Coast Aboriginal language and stories. Ellen with her husband Hughy travelled the country in the 1890s from Maloga Mission on the Murray River to Kangaroo Valley where they tried to start an independent community to Kiama and the Georges River in Sydney. When Nardaparli paints she feels her ancestors guiding her and finds it hard to stop until a painting is finished.
When the 2020 bushfires ravaged the south coast of NSW, Nardaparli remained in her Wreck Bay community and watched as the mountains turned red. Many evacuated. Nardaparli saw more than just the fire. She saw the deep spirits of the mountains in the flurescent red glow from Gulaga (Dromedary) to Didthul (Pigeon House) mountain.  She also saw spirits rising up from the ocean around her. 
Just released for Christmas 2020, Nardaparli's  "Budawang Burning" painting is an icon of 2020. See the painting and Nardaparli's reflections by clicking here.
Booderee Stingrays is Nadaparli's 1995 iconic image that is now closely associated with the joint Aboriginal and National Parks joint management of Booderee National Park.  See Boderee Stingrays by clicking here. This has also been released for sale as a print for the first time.
Nadaparli's paintings are available as signed limited edition prints on 100 per cent cotton fine art papers. They are available in two sizes A2 40X62cm $250  and full size 60X90cm prints for $500. 
To order your print please email: peter@peterbotsman.com
Prints may be picked up directly from Arthead, Moss Vale or for an additional cost mailed in a tube to you throughout Australia or internationally.
Framing is also available through Arthead, Moss Vale or at your local art framer.
Project description:
Nardaparli is a renowned painter from the Wreck Bay community in NSW. Her paintings are treasures of South Coast Aboriginal art. Her "Bouderee Stingrays" are much admired and are the icons for Booderee National Park at Jervis Bay.
Funding Type:
Funding Amount:
Subject(s):
Campaign link:
https://www.isx.org.au/projects/veb-nardaparli