Miss Emily Aboriginal Art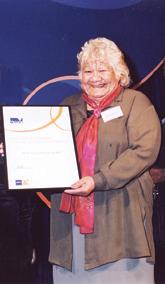 Miss Emily Aboriginal Art commenced as a CDEP program approximately 5-6 years ago. After
approximately 3 years Barbara Egan, one of the CDEP participants became the sole
owner of the business. "Miss Emily Aboriginal Art" is registered in Barbara's name.
The business commenced with the manufacturing of hand dyed silk scarves. Framed silk
art work was also produced. This process was supported through training provided by
Sunraysia Institute of TAFE. Business Mentoring support was provided by Madec Jobs
Australia.
Since the businesses inception sales outlets have been established Australia wide.
Products have also been exhibited at the Aus-Trade Fairs in Canada. New York Citv and
Toronto. The organisation has also been a recipient of a Telstra business award.
The business has on average 5-6 people from the CDEP at any time participating in the
operation. Each of these people possesses different skills and abilities.
Miss Emily was recently featured on the ABC television show "Message Stick". This has
contributed to the many people who visit the shed to purchase products as well as view
the production process.
ln recent times the range of silk products produced has expanded to include exquisite bags, ties and exquisite sarongs and is currently unable to keep up with the high demand for these unique silk products which are attractively presented and packaged to attract the eye of the consumer.
The business has now added ceramic products to its range, pouring, cleaning, firing and
hand painting each stunning and individual piece using a variety of techniques. The Sunraysia Institute of TAFE delivered training in this area earlier in 2004 with all students successfully completing the program.
Project description:
Miss Emily Aboriginal Art was established as a CDEP program. The business produces a range of striking hand dyed silk scarves, sarongs, bags ties and framed silk designs as well as highly unique and individual hand painted ceramic products. With appropriate support and business systems in place, opportunities for business development are unlimited. The products fit into a niche market that is currently in high demand. Assistance with infrastructure and capital equipment as well as adequate mentoring support would ensure the ongoing growth and success of this enterprise.
Lead Organisation:
Miss Emily Aboriginal Art
Support Type:
Support will be welcomed in the areas of business planning, finance, human resource management and marketing.
Current Partners:
The business has no current business partners, and does not anticipate such a need in the foreseeable future.
Funding Amount: