Rripangu Yidaki Masterclass
Body:
Djalu Gurruwiwi and family warmly invite you to a 5 day cultural immersion experience in Arnhem Land. This Masterclass is a rare opportunity for you to learn from the Grandmaster of yidaki, Mr Didgeridoo himself, as well as to experience Yolngu life from the inside. As a guest of Djalu and his family, you will be learning in his community at Gikal' outstation, north-east Arnhem Land, an intimate outstation-type settlement situated on a lovely stretch of beach with postcard views of the blue waters of the Arafura Sea.
This is an intensive 5 days of learning... about Aboriginal culture, language, kinship, relationships to land, the environment, hunting... And of course, learning to play the yidaki from the very best teachers you could possibly have. You will also have the opportunity to make your own yidaki under the guidance of Djalu, his son Larry Winiwini and other members of the Gurruwiwi family. Learn the secrets of Djalu's craft that has earned him the reputation as the world's foremost didgeridoo craftsman.
You can book in at the link below:
Accommodation is twin-share in a 17 metre luxury, air-conditioned, steel-hulled cruiser.
If you have your own camping equipment and you rather bring that with you, that is fine, we will show you where to set up camp. Amenities are basic and designed for those who want to experience the Australian outdoors at
We provide 3 meals a day on the cruiser and will ensure you are well fed. Vegetarians are catered for, so please tell us if you have specific dietary requirements.
Note that men, women and couples are welcome to attend the Masterclass.
There is a cost of AUD$2500 per participant for the Masterclass, which covers food, local transportation in Arnhem Land, accommodation, your own yidak which Djalu and family will help you makei, daily cultural activities and tuition, and a few special things we won't tell you about just yet!
There is a limit of 10 participants for the Masterclass and we encourage you to book as early as you can to avoid missing out.
Image: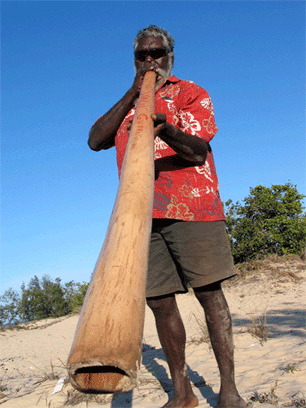 WWW:
http://www.ididj.com.au/education/eco_bookings.html
Region:
Northern Territory - North East Arnhem Land
Sub-title:
18-22 May 2009, Gikal' outstation
Subject(s):