Stephen "Baamba" Albert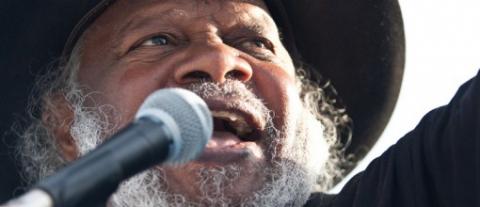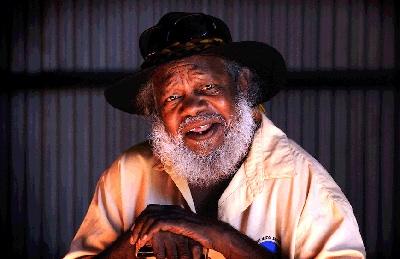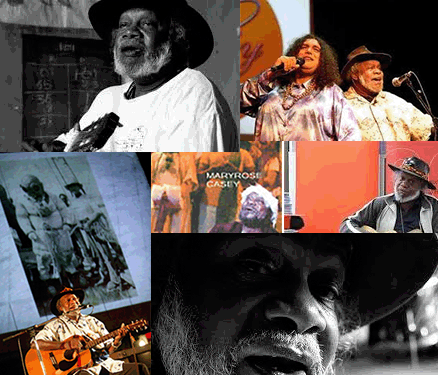 Baamba is an Indigenous Australian actor and singer who is loved by the hundreds of audiences that he has performed for over four decades. He is one of the ISX's national living treasures. He is an inspiration to his community and is one of the great modern generation of Broome leaders who also contributed to the development of all of the Aboriginal nations of Australia.
With his trademark hat banded by weaved string with the indigenous colours of black, red and yellow, Baamba is synonomous with old Broome. His stories of luggers, pearl divers, gambling houses, beautiful women and hard-living deep-sea diving men cast a spell over his audiences. With other musicians and singers from Broome he embodies the spirit of the modern day troubadour and ministrel. His job is to make people happy, to make them think and reflect on the past and the future.
Baamba was born in Broome in the 1950s. His professional career begun in 1968 with the band Broome Beats.[2] If you talk to the long term old Broome residents they will tell you of an era in the 1960s and 1970s when Baamba was the local entertainer and interpretor of all of the major musical genres from early rock n roll, to jazz to country and western. It was in this context that Baamba learned how to entertain people and to weave stories and magic into his performances. Over this period alongside a series of legendary musicians and song writers such as John Sahanna, Arrnold "Ngoonchy" Dean, Jimmy Chi, Stephen Pigram and MIchael Manolis, Baamba began to embody and carry on the unique styles and musical traditions of Broome and the North West.
They say the residents of old Broome can think in at least seven different cultural ways including Aboriginal, Aghan, Selanese, Hindi, Malay, Kopang, "Manila man", Japanese, Chinese, South Sea Islander and European. Baamba has mixed up all these cultural influences in his own unique style and in doing so he shows the beauty and character of Broome. For visitors to Broome and to people who see Baamba perform, his songs and stories are a revelation of the promise of a multi-cultural Australia. But like other great Indigenous performers and leaders Baamba brings out the tough times of the past. This is usually done with humour and a conquering spirit of good will.
The stage shows Bran Nue Dae and Corrugation Road by Jimmy Chi were revolutionary in their effects on Australian Aboriginal theatre. Baamba was a true company actor applying himself to several different roles over the evolution of those productions from theatre to film. Through these shows and others Baamba established himself as one of the leaders of Aboriginal theatre. He starred in the theatre productions of Bran Nue Dae and Corrugation Road.[1]  He acted  in Wongan Country and Shakespeare's Twelfth Night produced by Black Swan Theatre Co, Baamba by Baamba and John Hyde and all of the Theatre Kimberley productions between 1990 and 1996. Baamba was Mary G's sidekick in the acclaimed Mary G show,[3] the SBS drama series, he made appearances in The Circuit[4] presented the Bobtales TV series and is currently working with Stephen Pigram on the contemporary music picture history show of Broome - A Taste of Broome as the headline singer and story teller.
Baamba's achievements have not been confined to music and theatre. He was the first chairman of the Commonwealth Government's National Aboriginal Education Committee[2] and has maintained a strong commitment to education of Aboriginal young people. Baamba was one of the founders of the Broome Aboriginal Media Assocation which has led to the development of the remarkable Goolarri Media Enterprises which produces film, radio and television.
To purchase a copy of Baamba Baad online please double click on this link
Links
Stephen Baamba Albert in A Taste of Brooome 
Songs of Broome Stephen Baamba Albert talking about the early planning of his new album Baamba Baad. 
Purchase a copy of Baamba Baad online
References
(1) ABC TV, George Negus Tonight Interview With Stephen 'Baamba' Albert, 11/08/2003
(2) 2009 WA Citizen of the Year Award Finalists
(3) Sydney Morning Herald Snap, cackle and pop by Katrina Lobley, May 28, 2005
 
Project description:
Stephen "Baamba" Albert is one of modern day Broome's most famous contemporary figures. He is one of the ISX's national living treasures. Baamba has not only delighted audiences with his musical and theatrical performances over four decades, he has been a foundation policy maker and a founder of several of Broome's most important cultural institutions.
Region:
Broome, Western Australia