Nudg Indigenous Plumbing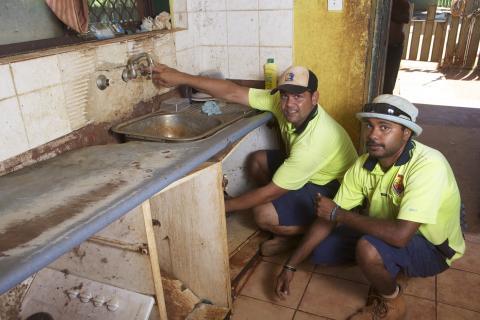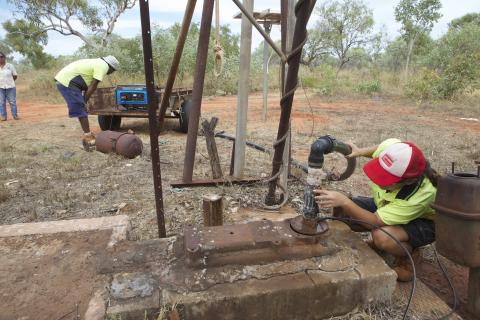 NUDJ supports the professional and personal development of Aboriginal plumbers. Water and sanitation are key health and safety issues for any community. Whether in cities, regional towns, remote areas or even in camping areas, plumbing makes a big contribution towards the quality of life for all people. There is high demand for Aboriginal plumbers across Australia. Having high quality water infrastructure and well maintained water supplies is one of the top issues that Australian communities face. In this way NUDJ is really about creating people for future needs and 
NUDJ is about creating a successful group of Indigenous plumbers who can run their own businesses and make a major contribution to keeping their communities safe and promote a higher quality of life for all.
Case Study: Ethan Corpus
Ethan Corpus was born and raised in Broome, Western Australia. He attended school at St. Mary's College and graduated in 2004.
In April 2005, Ethan travelled to Melbourne to undertake a plumbing apprenticeship. With the assistance of VICTEC, Nirrumbuk Aboriginal Corporation and the Victorian Plumbers Union, he worked with a number of host plumbing companies; Cooke & Dowsett Pty Ltd being his first and most memorable host experience.
Ethan kicked off his apprenticeship with an unforgettable project; the Commonwealth Games Village with Cooke & Dowsett. Following this job, he moved on from Cooke & Dowsett to a few smaller plumbing companies before getting called to join Geski's Plumbing in working on the upgrade for Spencer Street train station.
Ethan had never been away from his family before, so December 2007 saw him move back to his home town of Broome. He was still determined to complete his apprenticeship as he knew that a career in the plumbing industry was what he wanted to pursue.
Shortly after returning to Broome he approached a few plumbing companies before Pete Davies from Pearl Plumbing took him on. Ethan was employed with Pearl Plumbing for two and a half years and during that period completed one and a half years of tafe blocks with MPA Perth.
In 2009, Ethan again had to make the difficult decision to leave Broome as work in the township had slowed down drastically. He had also become a father for the first time and felt that the move would benefit himself and his family. So the Corpus family moved to the small town of Wyndham where Ethan found work with Terry McKay from Diamond Tek Plumbing. Making the 100km commute five days a week to Kununurra where Diamond Tek is based, Ethan continued with the company for two years.
Ethan became a registered plumber early in 2011 whilst living in Wyndham, accomplishing what he had set out to do back in 2005. The Corpus family then made the move back to Broome as Ethan and his partner were expecting their second child and wanted to be close to their extended family. Upon returning to Broome, he began working for Kimberley Plumbing & Gas with Ben Wells where he was employed for eighteen months.
Enter Joe Grande (Nirrumbuk Aboriginal Corporation) who offered Ethan the chance to join the NUDJ Plumbing Services Pty Ltd team as a registered plumber. In 2013, Ethan was promoted to a supervising role.
When NUDJ Manager Bret Sheehan announced his resignation early in 2015, Ethan was stunned at what came next…he was offered the opportunity to become the new NUDJ Plumbing Services Manager. Under the guidance of Darren Dawber (Cooke & Dowsett WA Manager), Jamie Dyer (Cooke & Dowsett Project Manager), Joe Grande and the rest of the Cooke & Dowsett team, Ethan accepted the challenge and has just commenced his new role. Ethan has been employed with NUDJ for a total of four years; his career advancement is a testament to the talent, knowledge and dedication he brings to the table.
Project description:
NUDJ Plumbing Services ABN 78 136 008 184 is a public benevolent institution and donations are tax deductible. Please make out your donation to NUDJ Plumbing. Please send a cheque to PO Box 8171, Broome, WA, 6725 marked Donation to NUDJ Plumbing Ethan Corpus Leadership Campaign.
Lead WWW:
http://www.nudjplumbing.com.au/
Campaign link:
/civicrm/contribute/transact?reset=1&id=16
Campaign summary:
NUDJ supports the professional and personal development of Aboriginal plumbers.