Mirrimbeena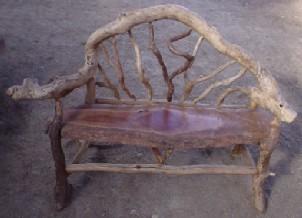 Project description:
For many years consumers have unwittingly been convinced to purchase a conventional range of furniture that suits the dcor of the modern home through the advertising media. Here in Echuca, we have the most aesthetic natural hardwood timber resources available to us in the world today. We have decided to use this resource and create something that is original, unique and different to what is being offered from the usual production line. Mirrimbeena is producing "Bush Furniture" that is authentic rare one-off pieces sourced from the forest floor of the Murray, Goulburn and Campaspe river areas surrounding Echuca. The most common native hardwood species of this region are Red Gum, Box, Murray Pine and Wattle. The approach to each individual piece is that they are produced from design concepts provided for client approval for production. The other featur of the furniture is that no two items can ever be duplicated exactly the same. Our method of production is that the end product will take time and be produced according to the concept. Therefore, each finished item will be a unique part of nature. Mirrimbeena is a registered ACFE (Adult, Community and Further Education) provider, teaching the art and technique of creating bush furniture under the accredited tutors Frank Coughlan, Les Foster and Clive Atkinson. The course content consists of: Furniture Design concepts; Materials timber etc.; Construction furniture production; Small Business and Marketing
Lead Organisation:
Mirrimbeena Aboriginal Education Group
Mentor Type:
WWW:
htttp://home.iprimus.com.au/yooringa
Support Type:
We need to upgrade our equipment and to purchase more mcahinery.
Funding Amount:
Subject(s):
Region:
Victoria - Echuca<br>Victoria - Goulburn Valley