Briggs Trust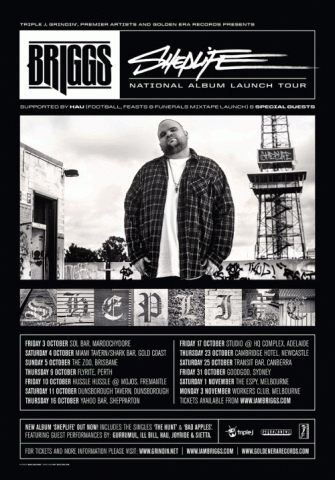 Campaign Briggs This campaign aims to raise $100,000 in 2015/16 . This will be the foundation stone of an endowment to create creative space, recording studios and a base for Briggs creative and community work. The Trust will be a perpetual fund. Some interest will be re-invested into the Trust and some will go into supporting projects each year.
Overview
Ther Briggs endowment is designed to create a permanent recording studio, residence and hq for Briggs in Shepparton.  
This will be a creative space for making music and videos but also for community work with young people particularly those who are in trouble.
Supporters and investors provide funds for the Briggs Trust which will be a perpetual fund devoted to creative investments approved by Briggs. All funds raised will go into the Trust and only the interest from the Trust will be used for projects.
Supporters provide investments of between $10 and $1000.
Investors that provide funds of $1000 or more will receive a range of entitlements including Briggs merchandise, CDs, VIP passes to Briggs concerts as well as the right to attend an annual meeting with Briggs to discuss his projects and activities.
All of the funds raised from supporters and investors will go into the Briggs Trust. The goal is to generate enough interest from the Trust to create a permanent annual income for Briggs' creative and community work. The fund will particularly support youth and other project work in Shepparton.
Biography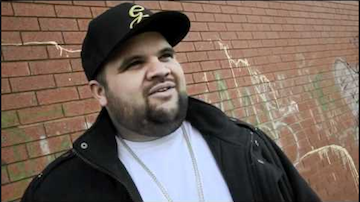 Adam Briggs, better known by the stage name Briggs, is a hip-hop MC and songwriter from Australia.
Briggs has released the albums Homemade Bombs and The Blacklist, in addition to appearances on songs with other artists, such as the Hilltop Hoods, Funkoars, Drapht and The Last Kinection. In the live arena, he has supported international artists such as Ice Cube, KRS-One, Necro, Ghostface Killah, Dilated Peoples, M.O.P. and Pharoahe Monch. In 2012 Briggs was featured on the ABC program Message Stick.
Briggs is an Indigenous Australian of the Yorta Yorta people ;[7] Yorta Yorta is tattoed on his forearms and he has stated in an interview with G&T magazine that the tattoo's purpose is "so every time I rock the mic people know who I'm representing."[7]
Briggs grew up with his family in Shepparton, a city in rural Victoria, Australia. In respect to growing up in the area, the artist has stated that:
"...where I'm from a lot of people are pretty far behind in their race relations. ... Growing up in Shepparton, it's big enough not be a small country town but it's just not that big yet. There are still a lot of small minds and a lot of stagnant attitudes as well. "
Briggs was a student at Shepparton's Wanganui Park Secondary College, where he briefly played guitar in a punk band prior to his involvement with hip-hop.
Briggs initially became attracted to American rap music and formed a group named Misdemeanour with schoolmate Peter Shiels. After renaming the group "912" (a combination of their house numbers), they performed a gig in Melbourne with Australian hip-hop artist Reason.[10] Briggs later recalled that Reason was one of the first MCs that he had heard rapping with an Australian accent.[6] Upon seeing the 19-year-old Briggs perform, Reason invited him to join an Obese Records record label tour that was followed by a role as the established artist's "hype man" (similar to a back-up singer).[9][6] Reason explained:
I was pretty taken aback by this ... this big fella with so much energy and so much passion standing up there, proud of his ... his world of Shepp, and rapping in a way that, you know, is so comparable to some of the greats, some of the more powerful MCs, you know, that I've followed over the years. And he was only 19 years of age.[9]
Briggs moved to the Melbourne suburb of St Kilda so that he could more easily access contacts in the local hip-hop community. While in Melbourne, he struggled to pay rent with the social security benefits that he was reliant upon—Reason stated on the Message Stick program that this period was beneficial, as it provided Briggs with an insight that has assisted his growth since that time.[6]
Briggs independently released his first EP Homemade Bombs in 2009 with the support of a monetary loan from Hilltop Hoods' MC Suffa. The recording included the song "Bad Move", for which a video clip was produced, and a collaboration with Reason that is entitled "My Priority".
Golden Era Records
The Hilltop Hoods signed Briggs to their Golden Era record label and invited him to be the support act on their 2009 European tour. Briggs accepted the tour invitation and the European trip represented the artist's first time overseas.
Briggs' debut full-length album The Blacklist was released in 2010 on Golden Era[14][15] and included the single "The Wrong Brother" that was inspired by an incident in which Briggs was stopped from entering a Shepparton pub by security officers, only to be told, "Sorry mate, we got the wrong brother."[8] Suffa appears in the music video for the song as a record label manager. The album also included the tracks "So Dangerous", with Trials (of Funkoars),[2] and "I Wish". Briggs later revealed that he "didn't expect" the public's response to the album, which included a #3 ranking on the Australian iTunes hip-hop charts that lasted a duration of four days.
In October 2010, Briggs became the seventh MC to participate in the Rapper Tag series of videos that featured Australian rappers who had been "tagged" by Newsense.
The ABC indigenous affairs program Message Stick aired a half-hour documentary on Briggs' career in June 2012 that included interviews with Reason, Suffa and Trials.
Briggs released his single "Rather Be Dead" on 27 July 2012 and uploaded a corresponding film clip onto his YouTube channel "BriggsTheMilkman" the previous day—as of September 2012, the video had received over 30,000 views. The single was added to playlists on Australian youth radio station Triple J[20]—it was featured on the playlist of the Home and Hosed program on 26 June 2012 and then appeared on The Hip Hop Show on 2 July 2012.[21][22]
Briggs initially announced the release schedule for his second album as late 2012; however, in October 2012, the artist revealed that this had changed to early 2013.
Briggs commenced the recording of his second album, entitled ShepLife, in 2012. Briggs coined the term "ShepLife" as a reference to the local lifestyle in his hometown of Shepparton. Briggs has used the hashtag "#sheplife" on Twitter, written a song entitled "#sheplife" that appears on the Golden Era Mixtape 2012 and released beanies emblazoned with "ShepLife". In an online interview, he explained the intention behind the album in relation to that of The Blacklist:
It was a pretty aggressive record. I said to Jay[tee Hazard, Briggs' production partner] when I was working on stuff for the ShepLife album, "If The Blacklist was the punch in the face, ShepLife is why I punched you in the face." Shep Life's kinda like the prequel.
In addition to appearing on the Golden Era Mixtape 2011[28] and Golden Era Mixtape 2013,[29] Briggs hosted the Golden Era Mixtape 2012.
In May 2013, Briggs and Jaytee launched a podcast available via iTunes.[31] On 20 May 2013, Briggs used an image from the John Hughes film Planes, Trains, and Automobiles for a promotional post for the podcast on his Facebook fan page.
Touring
Also in late 2010, Briggs was the support act on the Australian tour of American hip-hop MC Ice Cube,[8][33] who Briggs described as "my favourite rapper since I was a kid."[12] Also in late 2010, Briggs supported Perth MC Drapht on his "Rapunzel" tour.
In early 2012, Briggs supported Alabama rapper Yelawolf on his Australian tour.  In late 2012, Briggs toured alongside Horrorshow, as both were support acts for the Hilltop Hoods. Together with South Australian MC K21 and former mentor Reason, Briggs was announced as the support act for the Melbourne performance of Jeru The Damaja.
Awards
As of 2012, Briggs has been the recipient of two Deadly Awards nominations: "Best Single" in 2011 ("The Wrong Brother")  and "Hip-hop Artist of the Year" for 2012.
Charity work
Briggs hosted a concert that was co-ordinated by Shepparton organisation "Word and Mouth", in which local young artists from indigenous and refugee backgrounds participated in performances.
Briggs played for the Eastside Kings team in the 2012 Robert Hunter Cup, an Australian rules football match organised to honour the memory of Australian hip hop MC Hunter. Originally from Western Australia and a member of the Syllabolix crew, Hunter passed away from cancer in October 2011. The Cup event, which was inspired by an impromptu "kick-to-kick" game at a wake near the Melbourne Cricket Ground, was timed to coincide with the anniversary of Hunter's death and raised funds for Australian cancer charity CanTeen.
Personal life
Following his time as a resident of Melbourne, Briggs returned to his hometown of Shepparton in 2010.[12] Briggs has explained, "I like being back home, with all my cousins and my friends who I grew up with – they keep me honest."
Briggs has a daughter born in August 2012.
Discography
Individual releases
Homemade Bombs (2009, independent)
The Blacklist (2010, Golden Era Records)
Shepp Life (2014)
Guest appearances
"Ain' No Place", Eloquor (Move Up, 2009, Donny Records)
"Game Time", Maundz (Mr. Nobody, 2010, Obese Records)
"Burning Bridges", The Last Kinection (Next of Kin, 2011, Elefant Traks)
"The Eulogy", Drapht (The Life of Riley, 2011, The Ayems)
"Let It Burn" and "The People's Champ" (Golden Era Mixtape 2011, 2011, Golden Era Records)
"Lunchroom Table", with Trials, Suffa and Sesta (Golden Era Mixtape 2011, 2011, Golden Era Records)
"Keep that Mouth Shut", Tornts (Concrete Slang, 2012, Broken Tooth Entertainment)
"The Joint", Clandestien (Weapons Grade, 2012, Clandestien Productions) 
"#sheplife" (Golden Era Mixtape 2012, 2012, Golden Era Records)
"The Underground" (Suffa remix), Hilltop Hoods (The Good Life In The Sun, 2012, Golden Era Records)
Links:
Messsage stick interview with Adam Briggs 
If you're feeling what I'm doing I'd appreciate your vote! #Sheplife #SheplifeTour http://theage.com.au/entertainment/age-music-victoria-awards
Project description:
Briggs is a young Yorta Yorta song man for these times. This project is about working with young people at a credible, street level. Fans and investors can provide support for the Briggs Trust which will create a recording studio and creative space in Shepparton to support young people to find their voices and creativity.
Region:
Shepparton, Victoria, Australia
Campaign link:
civicrm/pcp/info?reset=1&id=2
Campaign summary:
This is a long term campaign to support Aboriginal youth culture in Shepparton.