Baamba Baad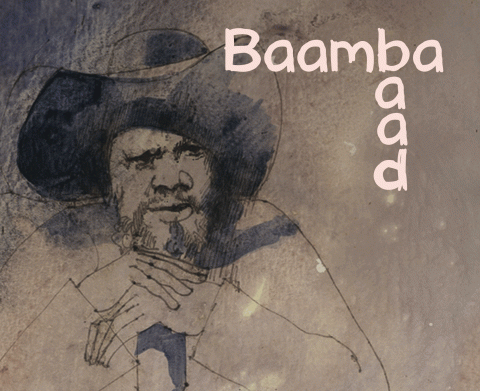 Stephen "Baamba Albert is a national living treasure. He is an actor, singer, community leader, educator and is one of Broome's living icons. A  legendary entertainer and singer in Broome in the 1960s. 
Guitars and ukuleles, squeeze box and mandolins, tea chest bass and mouth organs- these were the sounds I grew up with, living  in an old two storey corrugated iron shack, on the the highest hill in Broome in the 1950's. Played by mum, my  uncles and jabuj Louie these instruments were a huge part of the music cultural history of my hometown. The songs on this recording hopefully captures some of the spirit of my musical journey for you to share.
FISHING- I've always been a keen fisherman- I can remember catching salmon by the hand as they beached themselves on the creek bank, or taking them from the old wire fish traps  before the trap owners like Johnny Sweed arrived . These days I'm a" non-verbal cues" fisherman. The song was  written by my babbali  Mick Manolis and originally recorded  in 1981 with the seminal Broome band Kuckles- this is  my version trying to emulate Harry B.  
SALTWATER COWBOY- My old man, my stepfather who grew me up ,was the one of the last of the Japanese hard hat pearl divers.  He had passed away and I had just finished cleaning his body to get him ready for the next stage. On leaving the hospital I ran into my gumbali who had a demo recording of a brand new song from the Pigram Brothers about old pearl divers  sailing and singing their last  goodbyes –this was played as his ashes were scattered over the waters of Roebuck Bay….I then had the privilege of singing this song live onstage for three months in the Jimmy Chi  musical play "Corrugation Road" .
SELAMAT TINGAL/RED SAILS (medley)- in the sunset, goodbye to you  my nona manis –a combination of  Malay, Koepang, Anglais –much like the pidgin spoken on the luggers. I can still see them sailing out of Roebuck Bay from the highest hill in town..
TEN GUITARS… my old uncle Jubudah asked me, while performing on stage at the local pub with the Broome Beats, to "play that song  wid big mob guitars". I replied " who sing dat song?" he looked at me blankly- so I asked him in ngan-g ( language) "Ange ba amboorinj ??". He lit up and replied ' Yeah dat one now" . I said 'you mean Englebert Humperdink" to which he acknowleged  " Ng! ng!.. dajim".
SPANISH EYES –I usec to sing this song in younger days for my two aunties when they were first allowed to come to the pub. They always requested this one.
LUCKY OL' SUN –I heard Paul Robeson sing this song in my teenage days. A powerful voice and a great storyteller.These days I sing this one for old racehorse trainers.
NONA MANIS /TANJUNG PERAK(medley) another of the songs sung in the old pearling days ,usually to the handkerchief dance .
WONDERFUL WORLD- I'm not really a jazzman but Satchmo was a singer I admired for his charisma and style
BEGIN THE BEGUINE-there was a  state ship called "Koojarra" that myself  and Jimmy Chi sailed on from Perth to Broome in the 60's-this song was on the radio every night after the news.
NOTHING I WOULD RATHER BE – Tongue in cheeky!!
TOWN BY THE BAY-in 1907 the  St John of God Irish nuns arrived in our part of the country – their influence on the education ,nursing and training on our grandmothers and grandfathers is still alive today. My babbali Jimmy Chi wrote this song to create interest in building a nursing for home for the old people in Broome and I thank him for letting me sing it.
Baamba is my stage name, Baad is my tribe. Bard is also an english word meaning storyteller.
Gala gorn.
Project description:
Baamba is my stage name, Baad is my tribe. Bard is also an english word meaning storyteller.
Campaign link:
projects/stephen-baamba-albert
Campaign summary:
Baamba Baad is a compilation of songs that Stephen "Baamba" Albert has made his own over a career of 40 years in music, theatre and the arts. Baamba is one of the ISX's national living treasures. The first 1000 CDs are now available, numbered and signed by Baamba. Purchase a copy The funds from the CDS will pay for the production costs of the album. (For a short summary of Baamba's career go to http://www.isx.org.au/projects/stephen-baamba-albert)