Heavenly Sisters/ Angels of Arnhem Land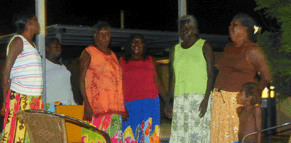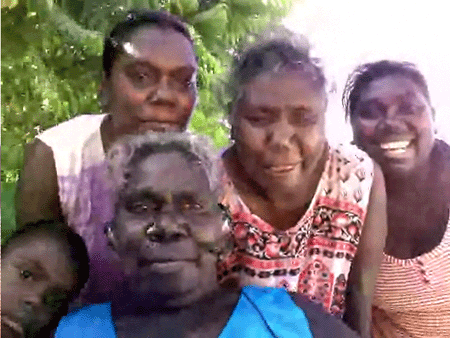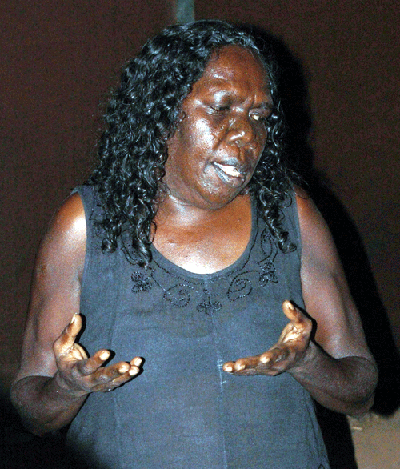 <b>New Songs</b><p>
New songs from the studio of life. If you listen you will hear dogs barking, children playing, the answer and call of the Yolngu language. No sterile recording studio here. People come and go from their temporary accomodation close to the Gove Aluminium refinery. Midst the chaos and uncertainty, the beautiful purity and spirit of the Galpu women, striving for a better life for their children and their families, rings out. All proceeds from the sales of these songs go back to the Galpu community.<p>
<A HREF="http://www.workingpapers.com.au/shop/cart.jsp?action=add&type=PublishedP...
"My Saviour Loves Me" with Lena Gurruwiwi on electric piano" Performed by the Heavenly Sisters/Angels of Arnhem Land, Recorded Wallaby Beach, 12 August, 2009</A><p>
<A HREF="http://www.workingpapers.com.au/shop/cart.jsp?action=add&type=PublishedP... Mori, He Rose Again, Glory to the Lamb Medley" with Lena Gurruwiwi on electric piano. Performed by the Heavenly Sisters/Angels of Arnhem Land, Recorded Wallaby Beach, 12 August 2009</A><p>
<A HREF="http://www.workingpapers.com.au/publishedpapers/2775.html">"Garray Jesu" with Lena Gurruwiwi on electric piano. Performed by the Heavenly Sisters/Angels of Arnhem Land, Recorded Wallaby Beach, 12 August 2009</A><p>
<A HREF="http://admin.workingpapers.com.au/shop/cart.jsp?action=add&type=Publishe... Dangu Nngya Nhunul Nrranan" with Lena Gurruwiwi on electric piano. Performed by the Heavenly Sisters/Angels of Arnhem Land, Recorded Wallaby Beach, 12 August 2009</A><p>
<A HREF="http://admin.workingpapers.com.au/shop/cart.jsp?action=add&type=Publishe... and Wide" with Lena Gurruwiwi on electric piano. Performed by the Heavenly Sisters/Angels of Arnhem Land, Recorded Wallaby Beach, 12 August 2009</A><p>
<b>Who are the Heavenly Sisters/Angels of Arnhem Land?</b><p>
After a hard day's work women of the Gurruwiwi family and the Galpu extended family find peace from singing spiritual songs. When they were heard singing on the beach at East Woody in 2008 it was observed that it was like the angels had descended from heaven. They were dubbed "The Heavenly Sisters" or "Angels of Arnhem Land" from that time on.<p>
The Heavenly Sisters are not a professional choir. But we are sure you will agree they are soulful, beautiful singers with talent to burn. Yhey want their music to be heard and to bring peace to the world and their own community. They would also like the proceeds from the sale of their music to go back to their children and to help re-establish the Galpu clan back on their sacred homelands at Gikal. All of the women are members of Gawurr Praise - the Christian Fellowship of the Galpu clan of East Arnhem Land - dedicated to the spiritual uplift of their community.<p>
<A HREF="http://www.workingpapers.com.au/shop/cart.jsp?action=add&type=PublishedP... Beyond the Blue" Performed by the Heavenly Sisters/Angels of Arnhem Land at Wallaby Beach, March 2009</A><p>
<A HREF="http://admin.workingpapers.com.au/shop/cart.jsp?action=add&type=Publishe... Saviour Loves Me" Performed by the Heavenly Sisters/Angels of Arnhem Land (accompanied by the master of Yidaki Djalu Gurruwiwi)</A><p>
<A HREF="http://admin.workingpapers.com.au/publishedpapers/2727.html">"Marrkapmi Garray" (Beloved Christ) Performed by the Heavenly Sisters/Angels of Arnhem Land (accompanied by the master of yidaki Djalu Gurruwiwi)</A><p>
<A HREF="http://www.workingpapers.com.au/multiattachments/2728/DocumentName/Somew... can also hear a free sample of Somewhere Beyond the Blue here.</A><p>
"Our Galpu people and children are rich in culture but we live in poverty in mainstream Australia. We need more options in life, learning and economic development. Most importantly we need avenues that our culture and knowledge can be properly valued in the mainstream. Our community have established Rripangu Yidaki so that our large extended family can take part in a business that teaches the world about the yidaki through our elder Djalu who is the custodian of the sacred Dhuwa knowledge of this instrument.<p>
But we need more than just our business to ensure that our families and children can grow up strongly within their culture. We live in a remote area and the coming of the mainstream economy and society means that we must negotiate two worlds. Some of the problems we face are as follows:
- We need funds to make sure our children have a strong education<p>
- We have inadequate, temporary housing. <p>
- Unemployment is very high. <p>
- Alcoholism and depression are too high amongst our men and increasingly our women community members. <p>
- We need new kinds of social infrastructure that will support our traditional way of life as well as help us to move between our traditional culture and contemporary mainstream culture with ease.<p>
We hope that you can hear our hearts and souls when we sing. We Galpu women have the main responsibilities for hunting and gathering many foods from our homelands. We play an important foundation role in our community as supporters of children and we support our leaders in their main ceremonial roles. Our decision making is collective and is always made in consultation with our wider family group.,p>
Thank you for listening to our songs and supporting us."<p>
Dhanggal Gurruwiwi, 2009<p>
<b>Gawurr Praise</b><p>
Our spiritual and community work is done through Gawurr Praise - the Christian Fellowship of the Galpu clan of East Arnhem Land. Gawurr Praise is a part of the Uniting Church.<p>
We also have the support of the East Arnhem Tourism Hub for our other work.<p>
The main enterprise of the Galpu Clan from which our entire extended family benefits is through our social business Rripangu Yidaki which you can find on the ISX trading floor.<p>
Depending on the success of our music we will establish a Heavenly Sisters Trust Fund whose principal investment sum will never be touched. Each year the interest from this fund will be paid to educate our children and to do good charitable works in our community. All proceeds from our music will also go into this fund.<p>
If you think you can help us in this project please contact Dhanggal.<p>
<b>Principal Contact: Dhanggal Gurruwiwi</b><p>
PO Box 435<br>
Nhulumbuy, NT<br>
Australia<br>
Letters are a nice way to make first contact with us. it gives us time to see who you are and to think about what you say to us.But of course the best way to support us is to buy our songs and ask others to do the same.<p>
Project description:
Geoffrey Gurrumul's sister, cousins and nieces are The Heavenly Sisters/Angels of Arnhem Land.
Mentor Type:
Funding Type:
WWW:
http://merricreek.com/dhanggal/?page_id=5
Funding Amount:
Subject(s):
Region:
Northern Territory<br>Northern Territory - East Arnhem Land