Fitzroy XPress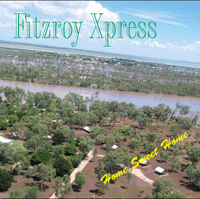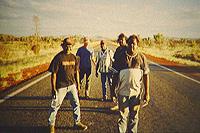 Fitzroy Xpress are Danny Marr, Alan McLarty, Raymond Marr, Victor (Lane) Marr, Waylon Marr and Danny Keogh. Their music is a unique blend of country, rocknroll and reggae. They are living legends throughout the Kimberley region in Western Australia. Hailing from Darlngunaya community near Fitzroy Crossing, they formed the band over 20 years ago whilst they were still at school.<p>
Fitzroy Xpress music is unique and so is their songwriting, with all of the band picking their favourite things like hunting, and writing some lyrics about it.<p>
The Band tours the Kimberley region of Fitzroy Crossing, Halls Creek and Derby also driving the long kilometres to Broome.<p>
You can support Fitzroy Xpress by purchasing <i>Home Sweet Home</i> which is available through Goolarri Media Enterprises, 7 Blackman Street, Broome (08) 9192 1325 or on-line through Goolarri below.<p>
<a href="https://www.egive.org.au/egive/payments/new_payment.aspx?id=26">Buy the Album for $33 plus $4.60 postage and handling for Australian destinations only. Just click here.</a><p>
FITZROY XPRESS - "HOME SWEET HOME"<p>
Tracks<br>
1. Bushmans Life<br>
2. Me and My Hot Bottle of Wine<br>
3. Long Summer Nights<br>
4. Crazy game they call Rodeo<br>
5. Bunuba Girl<br>
6. Home Sweet Home<br>
7. Was it last night<br>
8. Good Old Days<br>
9. Better off alone<br>
10. If Only<br>
11. Heaven Sent<br>
12. Better Man<br>
Project description:
Kimberley band Fitzroy XPress is one of the hardest working Indigenous bands around. The band's <i>Home Sweet Home</i> has just picked up a 2005 Deadly Award for Album Release of the Year.
Lead Organisation:
Goolarri Media Enterprises
Funding Type:
Contact Name:
Goolarri Media Enterprises
Support Type:
Support Fitzroy XPress and buy this Award winning album for $33 + $4.60 Postage and Handling (Australia only).
Subject(s):
Region:
Western Australia - Kimberley