Coaching, Mentoring and Training Services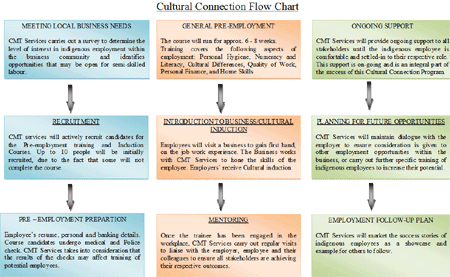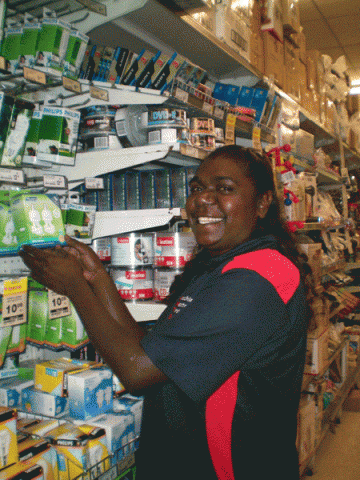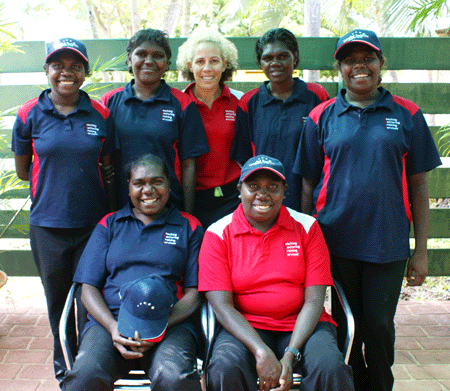 CMT Services has developed a strong methodology for Indigenous employment which is summarised in the chart opposite.
CMT Services has conducted numerous surveys within the Nhulunbuy region to gauge interest in the program. There have been encouraging responses and success to date.
Three Nhulunbuy businesses have already participated in the Cultural Connections Program.
Woolworths (Gove) was the venue for the first training session, involving 11 indigenous people. The trainees were instructed in all aspects of the Retail Industry, based on a non-credited Certificate 1 in Retail.
This was a first for Woolworths (Gove).
At the end of the on-the-job training, there was a remarkable and noticeable increase in the trainees writing and reading skills, confidence, understanding of OH&S requirements, personal hygiene and self esteem.
Universal Sodexho (Gove) provided opportunities for the same trainees to take part in Kitchenhand Duties, Dining Room Service, Housekeeping and Laundry. As a result of this work, six Indigenous girls were employed in Hospitality positions at the annual Gama Festival.
This was the first time in the 10 year history of the Festival that local Indigenous people had paid positions related to Catering.
Four of these girls also had a chance to show off their new Hospitality skills to the Prime Minister during his recent visit to Gove.
To date five trainees have secured full time work.
Gove Pharmacy has been involved in the Cultural Connection program for the past two months.
Pharmacist, Darryl Stewart, a staunch advocate of indigenous employment in Nhulunbuy, has been seeking advice from several business and government bodies to assist with employing local Yolngu people. Darryl agreed to take on a middle-aged woman, who camped and slept on a nearby beach, was a rehabilitated alcoholic, and dependent on welfare.
She now is employed up to 20-25 hours a week at the Pharmacy, has learned to be financially independent, and is soon to be enrolled in a traineeship. Recently she moved from the camp on the beach and is now living in an Aboriginal hostel.
She is also the only local Indigenous person employed in the Private Sector of the Nhulunbuy Town Centre.
Cross Cultural Awareness
A condition of participation requires all staff from businesses to be involved in a short but intense cross-cultural awareness information session conducted by CMT Services.
Subjects include:-
Language and Communication
Yolngu language: how to give clear instructions.
The three minute rule for response.
Sign language.
Why employers need to speak in soft tones.
Keep joking to a minimum until a rapport has been established to reduce likelihood of offending.
Provide instructions and tasks in small manageable portions.
Family structure, culture and indigenous relationships
Avoidance situations, which result from a very traditional system of family structure.
Male and Female contact and strict rules of conduct.
The complexities of Skin and clan groups, and inter-relationships.
The importance of eye contact.
Using deceased peoples names.
Acceptable dress codes.
Funerals & Ceremonies.
The complexities of the Kinship System.
Reciprocal relationship terms.
Benefits to Employers
The Cultural Connection program will bring a number of benefits to local businesses:-
Employees can hit the ground running with a degree of confidence.
Cost savings to employers in regard to sourcing and recruiting staff.
Subsidized labour while trainees are working.
As the program progress, trainees can move from part-time to full-time employment.
Employing local Indigenous people will ease the demand for the employer to provide accommodation.
The advantages of having Yolngu language speaker.
Provides an environment which helps
promotes reconciliation in a practical and
mutually beneficial manner.
Benefits to Indigenous Employees
Greatly improved self esteem.
Gaining genuine employment skills.
Gaining money management skills.
Develop new skills.
Improve communication skills.
Improved Numeracy & English literacy.
Building confidence.
Personal empowerment.
Ordinary people can become role models.
Working in a welcoming cross-cultural environment.
Potential Target Businesses and Occupations
Retail:
Supermarkets
Pharmacy
Industrial
Hardware
Sporting organisations
Food outlets
Commercial:
Automotive
Equipment hire
Tyre fitting
Industrial suppliers
Warehousing
Hospitality
Grounds maintenance
Child care
Kitchen hands
Vehicle Detailing
Tourism
Administration:
Government Departments
Rio Tinto
Small business office operations
Local Council
Reception
CMT Services acknowledge the role of the Nhulunbuy Chapter of the Chamber of Commerce in promoting the Cultural Connection program.
Project description:
The "Cultural Connections" program is not a quick fix in regard to the past employment misunderstandings of both cultures. It is a long term mentoring and training program that is designed to provide the employer and potential Indigenous employees with an in-depth understanding of each others cultural habits. When this is achieved, there will be for the first time, a structured pathway of understanding between both parties that will result in long-term employment relationships
Mentor Type:
Contact Email:
juanitahoward@bigpond.com
Support Type:
Employers of Indigenous People who are prepared to invest in training, mentoring and coaching.
Funding Amount:
Subject(s):